COGNITIVE IMPACT is a Public Relations and Brand Marketing firm headquartered in Los Angeles and Orange County California servicing the global Information Technology and Media and Entertainment markets. We are dedicated to delivering unmatched brand identity to your product, service, solution, or organization - elevating the profile of your business and accelerating your sales cycle. Our services are available to develop and deliver a cohesive, multi-dimensional brand marketing and/or PR program to support your marketing and sales efforts. COGNITIVE IMPACT has been delivering consistent and exceptional results for over 25 years to a wide variety of businesses, ranging from VC backed entrepreneurial start-ups, small to medium size companies to the global Fortune 500.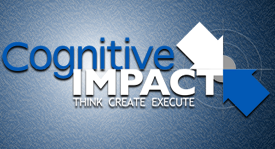 cog·ni·tive / adj.: of, relating to, or being conscious intellectual activity (as thinking, reasoning, remembering, imagining, or learning words) /the cognitive elements of perception.


im·pact

/ n.: the force or impetus transmitted by a collision. The effect or impression of one thing on another. The power of making a strong, immediate impression.